Home > Download Rummy App
Download Rummy Game App and Win Big!


Love rummy but hate carrying a deck of cards?
Download the best rummy app today and enjoy the most authentic and enjoyable rummy experience on your mobile phone. With our online rummy app, you can play anytime and anywhere with real players. Also, you get opportunities to win real cash prizes by using your rummy skills!
How to Download Rummy App for Android Mobile
Play rummy on the go with our mobile app, which has all the exciting features to ensure the safest and most entertaining gaming experience. Download the free Rummy app on any smartphone and engage in real-time rummy battles against skilled opponents.
Install the most seamless and secure rummy app on your Android mobile. Enjoy your favorite rummy variations of Indian rummy, like points rummy, deals rummy, and pool rummy in various game formats such as head-to-head games, multiplayer games, tournaments, and more. On Rummy.com, you can play free rummy games and tournaments and also play cash games and tournaments and win whopping big prizes.
Steps to Download Rummy App onto Mobile
To download the rummy app onto your mobile, follow these steps: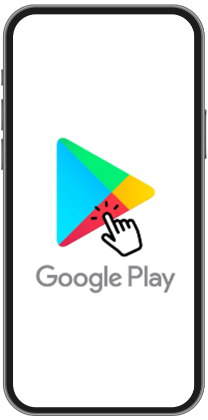 Step 1: Go to Google Play Store.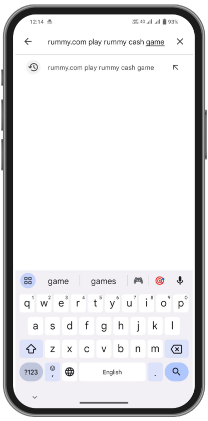 Step 2: Type "Rummy.com" in the search bar and search.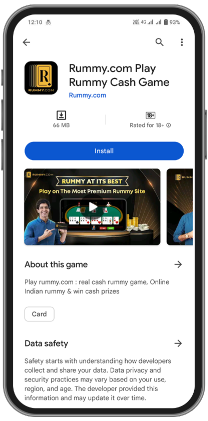 Step 3: Tap the "Rummy.com" app and tap "Install."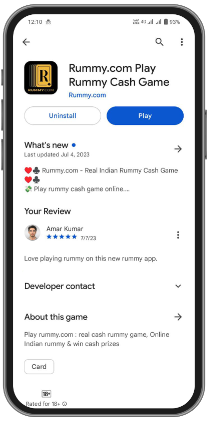 Step 4: Once the app is installed, tap "Play" to begin your rummy journey.
Rummy.com provides rummy lovers with wonderful opportunities to take part in its exciting tournaments every day and compete for huge cash prizes.
Note: Rummy.com is 100% safe, secure, and free from any malware. We do everything possible to protect our app users from any data breach, malware, etc.
Why Download Rummy.com App
Reasons why you should download only the Rummy.com app:
■ 100% Legal, Safe and Secure
Rummy.com is a legally certified online rummy app that uses a world-class security system to keep your personal information fully confidential and your money 100% safe.
■ Only Real, Verified Players
Play with only real, verified players and enjoy 100% fair gaming. The app's ultra-modern system makes it impossible for anyone to cheat, collude, or use a bot on the platform.
■ Fastest Withdrawals
Transfer your winnings to your bank account online quickly with just a few taps on your mobile.
■ A Wide Variety of Games
Choose your favorite rummy variant and play unlimited free games, cash games, freerolls, and cash tournaments and win mind-blowing cash prizes and coveted prizes like cars, motorbikes, iPhones, etc.
■ Best Player Support and Biggest Rewards
Get the best rummy experience with 24X7 customer service and enjoy whopping big cash prizes, huge amounts of bonuses, and instant free cash.
■ Unlimited Free Games, Tutorials, and Rummy Tips
Rummy.com not only allows you to play free games but also offers tutorials to help you learn to play the game as well as rummy tips and tricks to ace the game.
Refer the Rummy App to Friends and Get Referral Bonuses
In addition to offering you opportunities to win huge prizes, Rummy.com also gives you an opportunity to get big referral bonuses by referring your friends. For every successful referral, both you and your invited friend will get a big bonus. Your invited friend should go for a rummy game download using the link shared by you.
This is how our referral program works:


Things to Do After Downloading the Rummy App
Once you have downloaded and installed our rummy app on your mobile, you can take these steps to have a great experience:
Go through our rummy tutorial if you don't know how to play the game.
Play free games and tournaments to sharpen your skills.
Make a cash deposit into your Rummy.com account to get a big welcome bonus.
Play cash rummy games to win real cash prizes while having great entertainment.
Join cash tournaments to win cash prizes as big as 1000 times your entry fee as well as coveted prizes like cars, motorbikes, and iPhones.
Invite your friends (via Whatsapp etc.) to play on Rummy.com and get referral bonuses. The more friends you invite, the more bonuses you get. You can use your bonuses to play cash games and tournaments.
Check out and make the best of our daily and special occasion offers.
Play regularly and enjoy premium VIP services.
FAQs About Downloading Rummy App
Is Rummy.com safe and legally certified?
Yes, Rummy.com is legally certified and 100% safe to play rummy online. We offer a hassle-free and safe rummy experience to all players.
Will downloading the Rummy.com app harm my phone?
No, the Rummy.com app is designed by master developers and is 100% safe to download onto your smartphone. You don't need to worry about the security of your phone or data.
Is the Rummy.com app paid or free?
The Rummy.com app is absolutely free to download and install. Every player has the option to play free games using free chips or play cash games and tournaments, which require you to pay a very small entry fee and allow you to win big cash prizes. Remember, the virtual chips do not have any monetary value and are provided by Rummy.com free of cost.
Can I play cash tournaments after signing up on Rummy.com?
Yes, you can participate in cash tournaments on Rummy.com after signing up and depositing money into your Rummy.com account. After a successful cash deposit, you can go to the "Tournaments" section on the app and select and play the tournaments of your choice.
Why do I get a warning message while installing this rummy app on my mobile phone?
The warning message that appears while installing the Rummy.com app on your phone is just a default message. This message is a part of the Android default setting that ensures the safety of your phone while downloading an app from a third-party source. Rummy.com is 100% safe, certified, and free from any malware or viruses. You can allow downloading from this third-party source on your Android device and the app will be installed.
Can I play rummy offline on Rummy.com?
No, Rummy.com is an online game where players compete with each other in real time. This requires a stable internet connection. Regardless of your internet speed, you can enjoy seamless, uninterrupted gaming on Rummy.com as long as your internet connection is stable.
Can I win real money on Rummy.com?
Yes, you can win real money, as well as big prizes like cars and motorbikes, in cash games and tournaments on Rummy.com. To be able to participate in cash games or tournaments, you should have some money in your Rummy.com account.
How can I play free rummy games on the Rummy.com app?
As soon as you install the Rummy.com app on your smartphone and register, your account will be credited with free virtual chips. You can play free games using these virtual chips. On Rummy.com, you get unlimited free chips and you can play as many free rummy games as you want.
Tap "Practice" to play free games. You can select the number of players at the table even while playing free games.